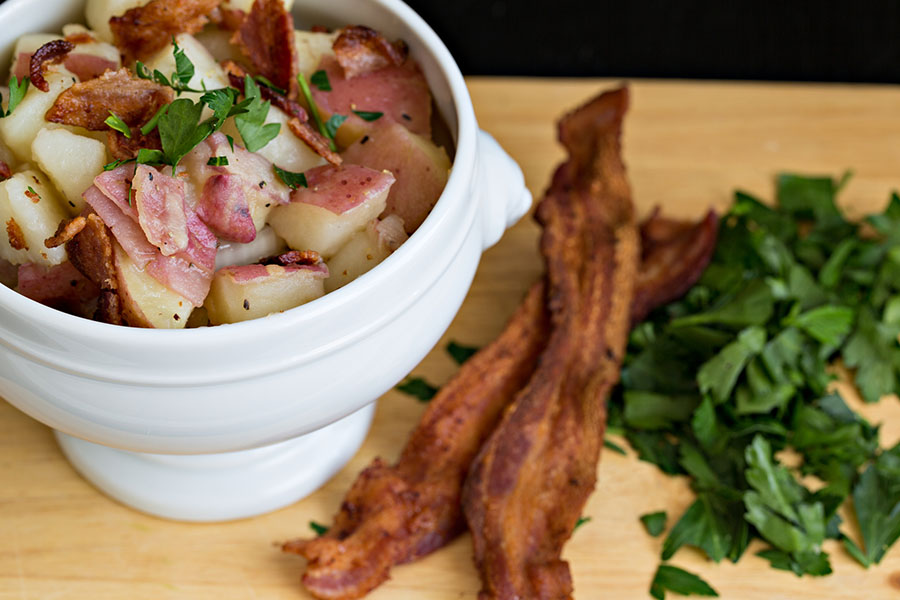 Potato Salad featuring Green Goddess Dressing
Ingredients
1/2 lb fresh green beans, trimmed
2 & 1/2 lb cooked small boiling potatoes (mixture of red/white), quartered, cooled to room temperature
1 cup mayonnaise
3 T Sparrow Lane Tarragon Champagne Vinegar
2 scallions, chopped
2 anchovy fillets, chopped or 2 tsp anchovy paste
1/3 cup freshly chopped tarragon
1/2 tsp salt
1/2 tsp freshly ground black pepper
1/3 cup crumbled bacon, topping
Instructions
1. Cook beans in a saucepan of boiling salted water, uncovered until crisp-tender – about 4 minutes. Drain, then place bowl into a large bowl of ice and cold water to stop cooking. Drain again. Pat beans dry then cut on the diagonal into 1/2 inch pieces.  Place in large bowl along with potatoes.
2. In a food processor pulse mayonnaise, vinegar, scallions, anchovies, parsley, tarragon, salt and pepper. Dressing should be a pale green and herbs should be well blended. Stir into potato mixture. Top with crumbled bacon.
Products used in this recipe
---
No product matching your criteria.