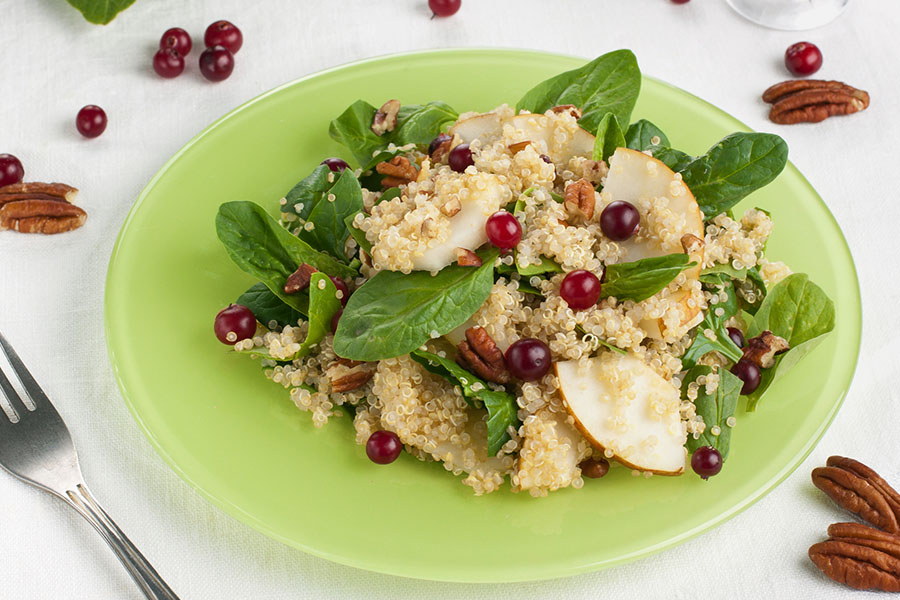 Pear Quinoa Salad with Maple Vinaigrette
Ingredients
1 cup organic quinoa
2 handfuls of organic baby spinach leaves, washed, drained
1 large ripe pear, washed, stemmed and cored, cut into pieces
2 T fresh chopped parsley
sea salt and fresh ground pepper, to taste
a handful of almonds or walnuts, pan toasted and salted to taste
cranberries (optional)
Maple Vinaigrette Dressing
4 T Sparrow Lane Extra Virgin Olive Oil
3 T Sparrow Lane D'Anjou Pear or Golden Balsamic Vinegar
2 T pure maple syrup
Instructions
1. Rinse the quinoa thoroughly in a fine sieve. Place the quinoa in a saucepan or a rice cooker. Add 2 cups fresh water, and a pinch of sea salt. Cover and cook on a low simmer until all the water is evaporated and the quinoa is tender- roughly 20 minutes. Fluff with a fork and dump it into a large salad bowl.
2. Add the baby spinach, pear, cranberries, and chopped parsley to the quinoa and fluff.
3. Whisk together the vinaigrette, pour it over the quinoa salad and toss gently to coat. Season to taste with sea salt and ground pepper. Just before serving, add the toasted pecans and lightly combine.
Makes four main course servings, six side dish servings.
Products used in this recipe
---