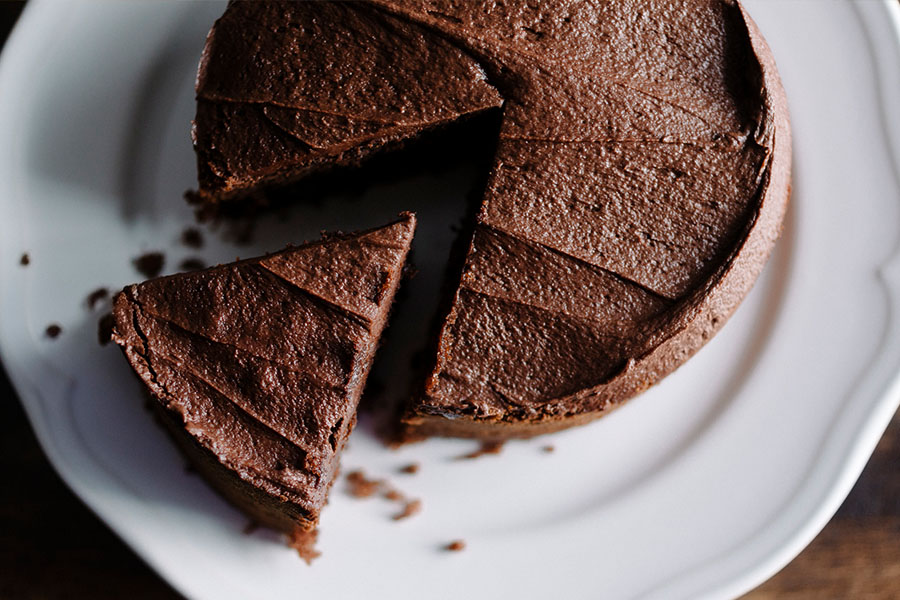 Chocolate Cake with Vanilla Bean Vinegar
Ingredients
1 & 1/2 cups all purpose flour
3/4 cup sugar
1/4 cup Dutch-process cocoa or natural cocoa
1/2 tsp salt
1/2 tsp espresso powder (optional)
1 tsp baking soda
1 tsp vanilla extract
1 T Sparrow Lane Vanilla Bean Vinegar
1/3 cup vegetable oil
1 cup cold water
Instructions
1. Preheat oven to 350 degrees. Lightly grease an 8×8 or 9" round pan that's at least 2" deep. If you don't have a 2"deep pan in either size, use a 9"square pan
Traditional Method: Measure all dry ingredients into the prepared pan. Blend together thoroughly with a fork or whisk and scoop out three holes, or indentations. Pour the vanilla into the first hole, Vanilla Bean vinegar into the second, and vegetable oil into the third. Take the cup of water and pour it directly over everything in the pan. Stir all the ingredients together with your fork until well blended.
Updated Method: Whisk the dry ingredients together in a medium sized bowl. Whisk the vanilla, vinegar, vegetable oil, and water in a separate bowl. Pour the wet ingredients into the bowl of dry ingredients, stirring until thoroughly combined. Pour the batter into the prepared pan.
2. Bake the cake for 30-35 minutes, until a toothpick inserted into the center comes out clean or with a few moist crumbs clinging to it.
3. Serve the cake right from the pan, warm from the oven, or once cool, frost the cake with this simple chocolate frosting:
Icing
Heat 1 ½ c chocolate chips with 1/2 cup half & half until the chips melt. Stir until smooth and spread over the cake. For a non-dairy icing, substitute 1/3 cup cold brewed coffee (or water) for the half & half.
Yields about 16 servings.
Products used in this recipe
---
No product matching your criteria.