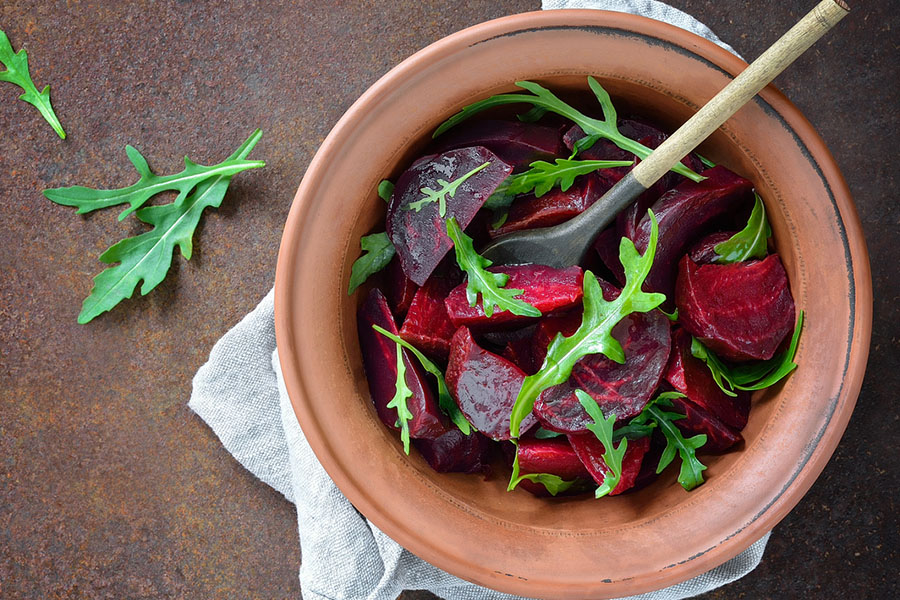 Beet Salad
Ingredients
3-4 medium beets, peeled and halved
Sparrow Lane Golden Balsamic Vinegar
2 cups baby arugula
Sparrow Lane Champagne Vinegar
Sparrow Lane Extra Virgin Olive Oil
crème fraiche
sea salt and fresh cracked pepper, to taste
Instructions
Prep
1. Place beets cut side down in baking dish. Pour the Sparrow Lane Golden Balsamic Vinegar so that the liquid is just touching the beets. Add about 1/2 cup water and a splash or two of the Sparrow Lane Champagne Vinegar. Cover with foil and roast at 200 degrees until fork tender. When beets are done remove and let cool. Reserve the liquid.
2. When beets are cool to touch, cut them into 3/4 inch pieces.  Cover and chill in refrigerator.
3. Place liquid from step 1 into small sauce pan.  Add 1/4 cup of the Blackberry Blasamic Vinegar and reduce over medium heat until it thickens into a syrup.
Assembly
1. Place 1-2 T crème fraiche on a small plate and spread into an even thin layer. Place the chillen beets on top of the creme fraiche.
2. Lightly toss the baby arugula with a splash or two of the Champagne Vinegar and about 2 tsp of olive oil, add salt and pepper to taste.
3. Garnish the edges of the plate with baby arugula mixture and then drizzle the beets with the syrup reduction.
Products used in this recipe
---