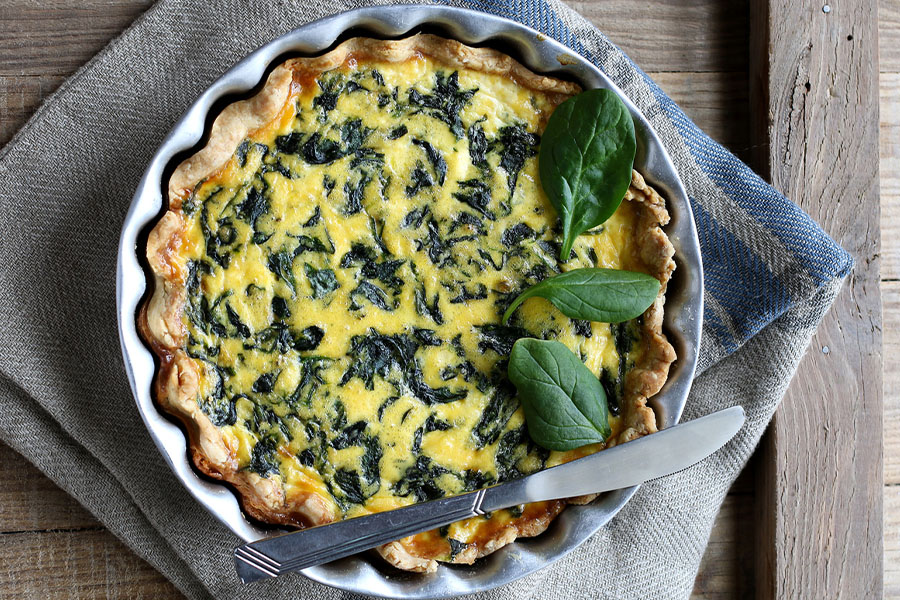 Bacon, Spinach and Goat Cheese Quiche
Ingredients
9-inch frozen pie crust
1 package (8 oz) bacon
2 T bacon drippings, reserved from cooked bacon
1 medium yellow onion, minced
1 package (10 oz) frozen chopped spinach, thawed and drained
4 oz Nicolau Farms Fresh chèvre, crumbled
1 can (12 fluid oz) evaporated milk
3 large eggs, beaten
1 T Sparrow Lane Champagne Vinegar
1/4 tsp fresh cracked pepper
Instructions
1. Prepare pie crust according to package instructions and let cool.
2. Preheat oven to 350 degrees. Cook bacon in a large skillet with drippings and sauté until caramelized.
3. In a large bowl, combine bacon, onion, spinach, goat cheese, evaporated milk, eggs and seasoning. Blend well. Add mixture to pie crust and bake for 30 to 40 minutes, or until eggs are set and knife comes out clean. Allow to cool for 5 minutes before serving.
Products used in this recipe
---